screen-free digital camera
Live In The Moment
Why No Screen?
Camp Snap cameras are designed with the goal of promoting social interaction and play amongst kids. Without a screen, children will not be distracted by reviewing the photos they took and can instead focus on spending time with their friends, playing games, and exploring the outdoors. This feature encourages children to be more present in the moment, and ultimately helps to create a more engaging and enjoyable camp experience.
Notable Features
Photo Quality

8 Megapixels for quality vibrant color digital or printable photos.

Simple To Use

With just a shutter button and flash selector switch, anyone can capture memorable moments with ease. No complicated settings or menus to navigate, just point and shoot.

Rechargeable

Comes with a built-in, long-lasting rechargeable battery and a pre-installed TF card that can store thousands of photos, ensuring your child is always ready to capture those special moments.

Vintage Style

Bringing back the aesthetically pleasing vintage camera design. Thin enough to easily carry in your pocket for on the go.

Drop-Proof

Our Camp Snap camera is a durable, eco-friendly option that can withstand rugged terrain thanks to its hard plastic construction with no internal moving parts.

LED Flash

We use an LED flash because they are energy-efficient, long-lasting, and provide consistent lighting for better image quality.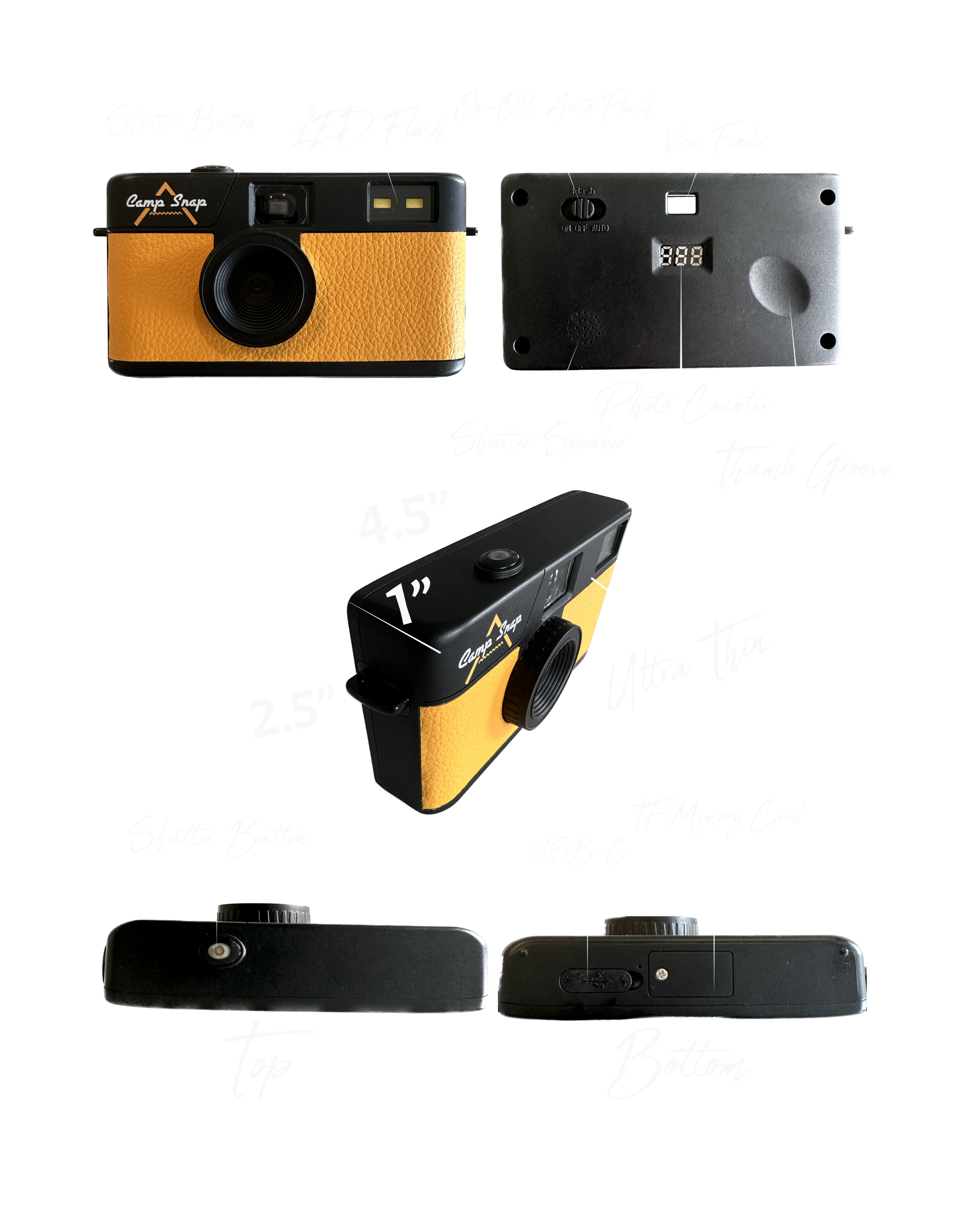 Camp Snap Screen-Free Camera
Looking for a camera that's perfect for your child's summer camp adventures? Look no further than Camp Snap! Our screen-free digital camera replaces the need for disposable film cameras and captures high-quality 8 megapixel images that are stored on a TF memory card. Plus, with the ability to store more than 2000 photos, Camp Snap is better for the environment and saves you money.

Camp Snap features a rechargeable battery that can take hundreds of photos per charge, and photos are easily transferred to your computer via USB-C. Plus, with no screen, your child won't be distracted by technology and can focus on making memories with their bunkmates.
Worried about your child's photos being lost? Rest easy with Camp Snap's secure TF memory card, which can only be removed with a Phillips screwdriver. And with just a shutter button and flash selector switch, Camp Snap is simple and easy for kids to use. Upgrade to Camp Snap today for more photos, lower cost, and a better environment!